This week I will introduce the FHCT-S High Speed Grooved Drum Soft Cone winding machine of Feihu Textile Machinery.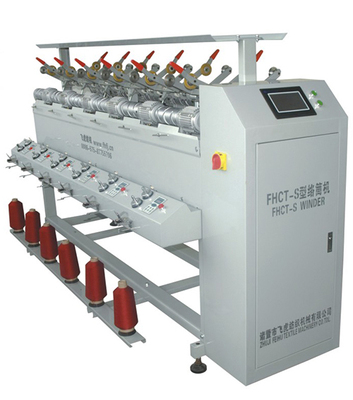 FHCT-S High speed grooved drum soft cone winding machine, it's mainly for before dyeing preparing using, suit for winding like Cotton yarn, wool yarn, Acrylic yarn, Polyester yarns and etc, and it can take up with Conical Cone or Tube dyeing bobbins. It has the feature of high efficiency and well take-up finished shape, can alleviate the intensity of labor for next processing work.
Main feature

1.Grooved drum of super plastic alloy material, high strength, light weight, groove design guide has an excellent performance broad applicability, the surface adopt the new technology of polishing Ra<0.8am roughness, hardness HV>900, Computer dynamic balace correction to meet high speed and low noise.
2.Axial traverse soft edge device and the fold pendulum frequency design, Can make the pine bobbin yarn dyed sex are more.
3.Individual spindle control, slow start, the line speed is adjustable, broken yarn stop and alarm functions.

4.Advanced touch screen interface.
Technical paramater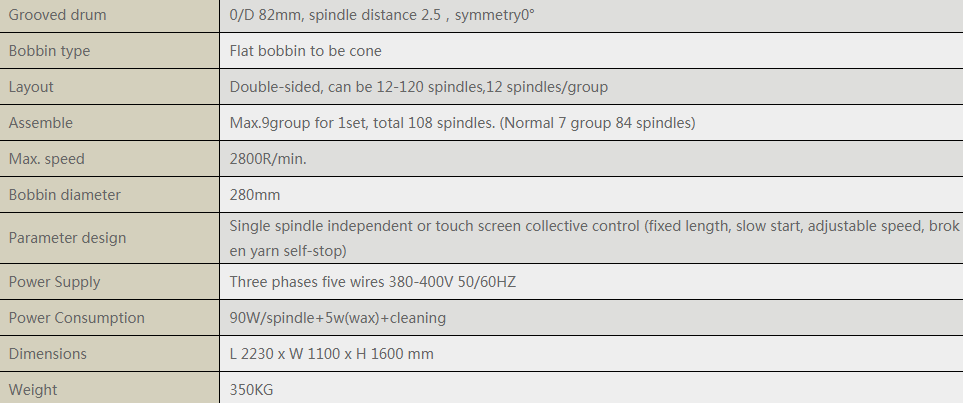 Zhuji Feihu Textile Machinery Co., Ltd., founded in 1995, has been devoted to the research and development of textile machinery for 25 years. It is a well-known professional company that integrates R&D, improvement and production in the industry. Hot-selling in China and Southeast Asia and other countries and regions,producing equipment such as double twister, winder, wire stretcher, slot machine and so on. The company is committed to the production and development of the best quality textile machinery, we sincerely look forward to your presence.